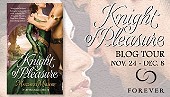 I posted a
review and giveaway
for this book just the other day...and let me tell you. I LOVED IT!!! It was absolutely amazing, I went right to favorite book store and bought the first book in this series. If you love medieval romance, this book is definitely for you!
Summary
:
THE GREATEST PASSION
Lady Isobel Hume is an expert swordswoman who knows how to choose her battles. When the king asks her to wed a French nobleman to form a political alliance, she agrees. But that's before the devilishly charming Sir Stephen Carleton captures her heart-and tempts her to betray her betrothed, her king, and her country.
IS WORTH THE GREATEST PERIL
Sir Stephen Carleton enjoys his many female admirers-until he dedicates himself to winning the lovely Isobel. So when a threat against the king leads Isobel into mortal danger, Stephen has a chance to prove that he is more than a knight of pleasure...and that love can conquer all.
More about Margaret Mallory!
MARGARET MALLORY
recently surprised her friends and family by abandoning her legal career-and her steady job-to write tales of romance and adventure. At long last, she can satisfy her passion for justice by punishing the bad and rewarding the worthy-in the pages of her novels, of course. She lives in the beautiful Pacific Northwest with her husband and their two college-age children. KNIGHT OF DESIRE is her first book so she would dearly love to hear from readers.
For more information check out
Margaret Mallory's webpage
.
Become Margaret Mallory's friend on
Twitter
.
Become Margaret Mallory's
Facebook Fan
.
Again! I want to reiterate, I LOVED this book...it is up there within my top three favorite romance books of all time. Read it. I know you will enjoy it! If you want to ask Margaret Mallory any questions post them in the comments, she dropped by the other day and commented on my review...maybe she will answer your questions as well...doesn't hurt to try!
EXCERPT:
"Do you want to learn how to protect yourself?" Stephen asked.
Green eyes sparking with fire, Isobel raised her sword and said, "Teach me."
"You should carry a short blade as well," he instructed as he fended off her attack.
"Why? You think you can knock my sword from my hand?"
"I can. But I will not have to. You will drop it."
He forced her to step back, and back, and back again. She threw her hands up, sending the sword clattering against the wall as she tumbled backward.
"I'm afraid you have the advantage of me," she said, reaching her hand up for him. He took it and sank to his knees beside her.
"Not true, Isobel," he said in a harsh whisper. "'Tis I who am at your mercy."
His eyes fixed on her lips, full and parted. The moment their lips touched, fire seared through him. She was kissing him back, mouth open. Slowly, he lowered his body ...
He froze the instant he felt the prick of cold steel against his neck.
"You are right," Isobel said so close to Stephen's ear that he could feel her breath, "'tis wise to carry a short blade."
To purchase this book: