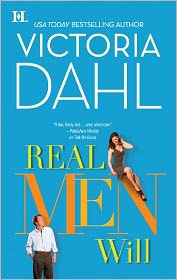 Publisher:
HQN Books
Publish Date:
25 October 2011
Series:
Donovan Brothers Brewery Trilogy: Good Girls Don't (1), Bad Boys Do (2), Real Men Will (3)
Synopsis:
It was meant to be a one-night stand. One night of passion. Scorching hot. Then Beth Cantrell and Eric Donovan were supposed to go their separate ways. That's the only reason he lied about his name, telling her he was really his wild younger brother. Hiding his own identity as the conservative Donovan. The "good" one.
But passion has its own logic, and Eric finds he cannot forget the sable-haired beauty with whom he shared one night of passion. When Beth discovers that Eric has lied, however, she knows he cannot be trusted. Her mind tells her to forget the blue-eyed charmer. If only every fiber of her being did not burn to call him back.
Review:
I liked this one, just as much as the other two books in this series. I found that I really liked Eric, finally, in this book. The last two books he has been really pissing me off. I also think Jamie was over reacting a TON in this book. I wanted to smack some sense into him...so I have no idea how Eric held it together when he wasn't throwing punches.
I also teared up on the part when Beth talks to her father. I was so happy she finally spoke to him and that he reacted the way he did (fianlly). I also like this book shows you can still chase your dreams as a fully grown adult. I also thought the dynamic between Beth and Eric was pretty dang hot. The hottest in the trilogy by far. I can't wait to read the next release by Victoria Dahl. Heck, I will read her scribbles...I am already fiending for her next book.
Copyright The Bibliophilic Book Blog 2009-2010