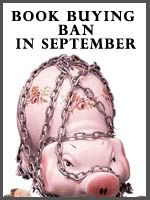 So...I have a wedding coming up, a few trips I am taking, my Husband's Birthday (that I spent a ton of money on, gladly), and then my Mom's Birthday and then Christmas...this leaves me almost broke...like nothing. :(
Here are my guidelines:
1. I will not purchase myself any books with the exception of Nevermore by: Kelly Creagh (cause she has to sign it for me).
2. That is about it....this ban is about saving money not downsizing so I will be swapping and contesting all over to help fill the void of not buying books.
This is going to be hard because I am hanging out with Susan and going to a convention this month. :( Anyway, wish me luck and if you can spare the coin, any donations to the site would be greatly appreciated because they will go toward mailing out giveaway books.
Also let me say this is just me (Monica) on this ban...I am sure Star is scandalize and shocked at my blasphemy here ;) So...wish me luck!
Copyright The Bibliophilic Book Blog 2009-2010