I invited a couple of my favorite bloggers to stop by with a guest post on writing good reviews. Make sure to stop by Katiebab's blog and show her some love!
Katiebabs is a self-proclaimed eccentric reader who reads on average twenty books a month. She loves all types of genres but her absolute favorites are romance, paranormals and young adult. Katiebabs has been an active part of the blogging community since early 2007 and reviews for multiple review sites. She runs her own blog called Babbling about Books and More! (http://kbgbabbles.blogspot.com/), which has been live since September 2008. KB is also on her way to becoming published under the name KT Grant (http://ktgrant.com/). You can also find KB on twitter- @katiebabs. (graphic taken from her blog, make sure to click it to transport to her site and leave some love)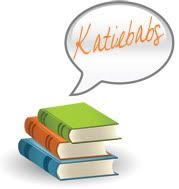 What Makes a Review Worth Reading?
I would say I have been reviewing "professionally" now for three years. Not only do I review books on my own blog, but also on other review sites. The first time I ever wrote a review was for Amazon back eight years ago and in those eight years my skills as a reviewer has changed and improved. But what makes a review worth reading? What are the rules one must follow?
When it comes to reviewing there are no set rules. Nothing is written in stone. But I personally have a few rules or standards I use when reviewing that I try to follow and keep in mind when discussing if a book blew my mind away or was dead on arrival.
1. Don't give away the whole story. Don't you hate it when movie reviewers tell you everything about the movie, including the ending? Don't end up doing the same thing when writing a book review. Keep to the basics. Tell us about the main characters and the world they are in. Be as precise as you can be without giving too much away.
2. Be respectful. Sometimes it is hard to not fly off the handle when reading a book you may think wasn't worth the paper it was printed on. Keep in mind that someone sat down and took hours, days, perhaps years out of their life to write this book. In a professional manner, bring up those points that you think made the book lacking in your eyes. Even though you may have a certain opinion about a book, there is always someone else out there who will disagree with you.
3. Don't write a short story review. Lately I've been trying to keep my reviews under 1,000 words. The longest review I've ever written was almost 2,500 words and took me hours to write. When all was said and done, was it really worth my time and energy to write so much about one book? The word count of a review is very selective but I personally believe if you can write a review that is between 500-800 words, you will be set. But then again there are some who have an art at writing very short reviews around 300 words, while others have written those thousand plus word thesis like reviews. Again, the total word count is all up to you, but keep in mind a person's attention span maybe short.
4. You opinion is always welcome. The goal of the reviewer is to give an unbiased opinion piece of the work of the author and not the author themselves. Never ever write a review based on what you think about an author. The point of the review is on the work. Mention your likes and dislikes about the writing, story, characters and overall tone of the book. The moment you bring an author's character into question that is when some may "question" your own character and reasoning.
5. Be honest. The most important thing when writing a review is being honest. Sometimes this can be hard because you either may adore the author or perhaps have a relationship with an author and if their work is lacking, you have a tough decision to make. Do you sugar coat the review so as not to hurt the author's feelings or stay honest and point out why the book didn't work for you. You have to do what is comfortable for you. Sometimes it is better to pass on reviewing a book because there is no promise you will enjoy it.
6. And the most important thing when reviewing is to have fun! When you stop having fun, then that's when you need to reevaluate why you are reviewing.
Hopefully these tips can give you guidance for writing your own reviews. Everyone's reviewing style is different, but if you can let your personality shine through and write the best possible review that you can, then I have no doubt you will be a very skilled reviewer.
Copyright The Bibliophilic Book Blog 2009-2010