So in honor of the release of 'Lover Mine' the next installment in the Black Dagger Brotherhood Ms. Smexy over at Smexy Books is having a giveaway...what do you win, you say?? Well...a signed copy of 'Lover Mine' by J.R. Ward and ,even better in my opinion, finally a happily ever after for V and Butch. Go check it all out!
This is not my giveaway but Smexy's so enter at her blog, not here, lol. Just want to clarify! Hear you all!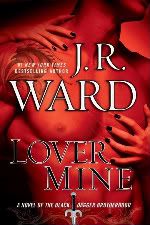 Want to read some great reviews of this book??
Wicked Little Pixie
Smexy Books
Copyright The Bibliophilic Book Blog 2009-2010