I am so unbelievable honored to be hosting Saskia Walker here at The BBB for an interview. I read 'Rampant' her newest book to be released by Harlequin on 1 April 2010 and I fell in love. I fell in love the characters, the writing, the setting, and the author. I immediately put the book down and emailed Saskia and asked her to do an interview with me. I connect with this book on an entirely different level than I have ever connected with any book before, as much as I would have liked to. This book and this author are now nicely seating on my favorites lists and I can't wait to see what else she comes up with! So here is a bit about Saskia Walker before we get started: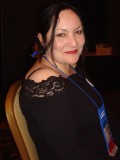 I'm British by birth, but because of my parent's nomadic tendencies I grew up traveling the globe. I was an only child with a major book habit! I dreamed of being a writer since the age of 12 and finally began writing seriously in the late '90s. By then I'd got myself a BA in Art History, a Masters in Literature and the Visual Arts—and I'd worked in all manner of diverse careers—but the stories in my head simply had to be written!
Nowadays I live in the north of England—close to the beautiful, windswept landscape of the Yorkshire moors—with my real life hero, Mark. Mark supports my work through all its ups and downs, and runs the tech side of this website. He also manages to keep me sane and grounded when fiction threatens to take over
And on to the interview...
(BBB):
So how did you get started writing? and what led to romance/erotica?
(SW):
I started writing seriously around 1996, although I'd wanted to write fiction since I was a young teen. At first I was dabbling in fantasy and historical story ideas. Romance and eroticism were always part of it though, and I think that's because I like to explore the way relationships develop. I began to sell my erotic short stories and things took off from there. At first it was contemporary erotic work that sold, but as my career developed I've been able to incorporate more elements of history, fantasy and the paranormal, i.e. many of the things I wanted to do from the outset.
(BBB):
This may be to personal, if so feel free not to answer. Are you of the Pagan religious persuasion?
(SW):
I do feel more in tune with paganism than any more organized religion. I was brought up catholic but around the age of eight or nine my parents took me to visit Stonehenge and the experience really stayed with me. It got me thinking about the importance of nature and the seasons. Nowadays we are so wrapped up with the technical world it's very easy to forget our deep connection with the natural world. It's something I love to explore in my writing, and it's very exciting when readers respond to that, the way you did. :)
(BBB):
How much research was involved for the writing of Rampant?
(SW):
The book was originally inspired by a trip to Fife on the east coast of Scotland . We stayed in a cottage in a small fishing village and explored the area from there. It was so magical I simply had to write something set there! During the visit I learned about the history of witchcraft and persecution in Lowlands Scotland, and subsequently did a lot of reading around the subject for this novel. I had fun researching all manner of things for the story, such as what a deserted lighthouse would be like inside.
We visit Scotland pretty much every year anyway, and that's partly about research for the writing. I also took some great online workshops with the Celtic Hearts chapter of the Romance Writers of America, alongside my own research. That extended my knowledge of the history of the Lowlands and the wealth of paranormal legend in Scotland . For the purposes of the story I built the nature magic around druid beliefs and neo-druidism, as well as drawing on occult practices and Scottish folklore.
(BBB):
What is your fav food?
(SW):
I'm all about spices and garlic. I love Mexican and Asian food. I also can't resist dips—
Salsa, guacamole, and hummus. Hummus in particular is not safe in the house. If there is some here, it has to be eaten.
(BBB):
Who are some of your fav authors?
(SW):
I'm currently reading Kresley Cole, I adore her paranormal work. In erotica I don't miss a Portia Da Costa or an Emma Holly book. An author who writes fabulous erotic fantasy is Janine Ashbless, watch out for her. Tanith Lee, Patricia McKillip, and Storm Constantine are long time fantasy favorites that I return to on a regular basis.
(BBB):
Do you have any writing rituals?
(SW):
Not as such, but I have this one little quirk—I cannot start my writing day until the dishes are washed. I'm laughing, because it makes me sound like a good housekeeper. I'm not! Believe me, I'm up there with the world's worst, but apparently the dishes have to be done. It's a good use of time though, because I'm often thinking about the writing I intend to do that day. Agatha Christie once said that the best time to think about writing is while you are doing the dishes, and I totally agree with her on that one.
(BBB):
What do you like to do when you are not writing?
(SW):
I try to get out of the house as often as possible. We're lucky that we live close to the Yorkshire moors and the Yorkshire Sculpture Park . I'm particularly fond of visiting North Wales and Scotland , and we do at least one visit a year. I love being with my man, talking about books and story ideas. I also love reading, film, and comedy. I enjoy good red wine and live music.
(BBB):
How do you feel about the ebook/ereader era coming up? do you own an ereader?
(SW):
Save trees, read an ebook! I'm a big supporter of ebooks. At the present time I think it's ideal to have all options available for readers, but I'm doing more and more electronic reading myself. Sometimes I read on my PC, sometimes on a palm reader. I'm saving my pennies for a Sony reader.
(BBB):
Can you share anything about what you have coming up or plans for the future?
(SW):
I'm currently writing my second novel for Spice, THE HARLOT. Readers who enjoy the back-story about Annabel and her world in RAMPANT might enjoy THE HARLOT as well. Set entirely in Scotland in 1715, it's about an unlikely pact between a man bent on revenge, and a harlot who secretly practices witchcraft. In part it's a Pygmalion story—the hero tutors the heroine to seduce his enemy, but when they begin to fall for each other the situation becomes a tangle of erotic and emotional conflict, as you might imagine!
I'm also working on a series of three short novels for my epublisher called EROGENOUS ZONES. These are contemporary London-set novels about three psychic sisters. The first, MONICA'S SECRET, is about a heroine who can experience the sexual history of objects and people by touching them. You can imagine the situations that gets her into—especially when two gorgeous men attach themselves to her while they investigate fraud in the hotel where she works!
Long term, I hope to be able to keep writing and producing stories that readers will love as much as I love writing them.
(BBB):
Who is your fav character in Rampant?
(SW):
Favourites are so hard to do! I think I'd have to divide my affection equally between Zoë, Grayson, and Annabel.
(BBB):
Zoë because it's all about her adventure, and because she has to cast aside all her preconceptions about the paranormal. She's a skeptic to begin with, and all of a sudden her life is filled with witchcraft, potent erotic magic, and a ghost who shares powerful erotic visions with her. Grayson has all the qualities that a woman could want in a sexy hero—strength, intelligence, passion, humility and loyalty, but as I was writing he also turned out to have a serene aspect because of his pagan ways, and I loved that. And then there's Annabel...the first people to read the book said they adored this mischievous ghost, Annabel McGraw. She's unruly, passionate, and mysterious, and her story unfolds across the novel. As I was writing, Annabel's character became so much more significant in the story. I cannot help but love her. I had great fun with these characters and I hope that readers will enjoy them too.
(BBB):

Thank you so much for stopping by today Saskia! It was an honor to interview you!
Make sure to stop by some of her social networking places and show some love:
Website
Blog
Twitter
Copyright The Bibliophilic Book Blog 2009-2010