Alyssa over at
The Shady Glade
is offering up this great bookmark prize for one lucky commentor, go to her blog and show some love.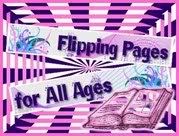 Sherrie over at
Flipping Pages For All Ages
is giving away to a lucky reveler a nice set of swag bookmarks. A Few of them are signing by authors as well, so don't miss out on that one! Go to her blog, follow if you aren't and show your appreciation!
Our good friend over at
Bibliophiles and Buccaneers
has also offered to make a few bookmarks for a lucky winner...check out her blog, love the name btw, and show your love!
I hate to admit this because it means I lost something somewhere but
Star Shadow Blog
and I were going to do something bookmarkish together too, she however just informed meshe has some signed bookmarks she can giveaway. YAY.
So, this is the opportunity to win four different prize packs, what you need to do it leave a comment telling me you follow or followed the respective blog you want to win from...you should go for ALL...I need you to state that you follow each of them or specifically if you only want one set...and I need an email address.
Copyright The Bibliophilic Book Blog 2009-2010