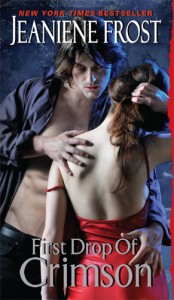 Pages:
384 pages
Received:
purchased from Wal-mart
Genre:
Paranormal Romance
Book Blurb:
The night is not safe for mortals. Denise MacGregor knows all too well what lurks in the shadows—her best friend is half-vampire Cat Crawfield—and she has already lost more than the average human could bear. But her family's past is wrapped in secrets and shrouded in darkness—and a demon shapeshifter has marked Denise as prey. Now her survival depends on an immortal who lusts for a taste of her.
He is Spade, a powerful, mysterious vampire who has walked the earth for centuries and is now duty-bound to protect this endangered, alluring human—even if it means destroying his own kind. Denise may arouse his deepest hungers, but Spade knows he must fight his urge to have her as they face the nightmare together . . .
Because once the first crimson drop falls, they will both be lost.
Book Review:
First off, I am totally in love with Spade! There, I said it, and further more, I am totally in love with Spade more than Bones *ducks from incoming debris*. Truly, I think Spade has an entirely different character than Bones and he has a whole other level of compassion and caring. I love Denise as well, she grows in this book, even after everything she went through; she learns from her mistakes and makes the correct decision when it comes to her and Spade's relationship, I am proud of her for allowing herself to love again, after everything she went through.
This book is also incredibly hot, sparking fever hot, molten lava hot, I LOVE LOVE LOVE the "Spade in the shower scene", you will know exactly what I am talking about once you read it :) Spade is so hot and delicious and any other adjective meaning yummy. I loved this book and even though Ian has been a jerk in the past I am intrigued to meet the women who tames him.
Discussion Questions:
Denise and Spades chemistry sparks more than a firecracker on the 4rth of July. Did you like the chemistry between them and did you feel the development of the relationship work?
I totally felt the chemistry and the development, I love these two together and I LOVE Spade like no other, I may like him better than Bones *ducks from books being throw at my head*
Have you read the Cat & Bones series? Denise is such a different (wimpier) character than Cat... did that make a difference to you?
Nope, you can't go around judging every hero or heroine based off all the others books' heroines...cat doesn't at all stand up to Janaelle from the Black Jewels and Denise doesn't stand up to Cat, makes no difference to me.
LIGHTNING ROUND. Identify your top three favorite PNR series. "There are too many!" is not an answer. Neither is more than three. Name the top three. Ready.....go!
1. Black Dagger Brotherhood by: J.R. Ward
1. Immortals After Dark Series by: Kresley Cole
2. Merry Gentry Series by: Laurell K. Hamilton
Sizzle or Fizzle?
Definitely sizzle, loved loved loved the seductive shower scene. YUM.
Rating:
For more information or for purchasing visit
Jeaniene Frost's webpage
.
To purchase:
Copyright The Bibliophilic Book Blog 2009-2010