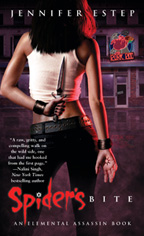 Summary:
They call me the spider. I'm the most feared assassin in the South--when I'm not busy at the Pork Pit cooking up the best barbecue in Ashland. As a stone elemental, I can hear everything from the whispers of the gravel beneath my feet to the vibrations of the soaring Appalachian Mountains above me. My ice magic also comes in handy for making the occasional knife. But I don't use my powers on the job unless I absolutely have to. Call if professional pride.
Now that a ruthless Air elemental has double-crossed me and killed my handler, I'm out for revenge. Ans I'll exterminate anyone who gets in my way--good or bad. I may look hot, but I am still one of the bad guys. Which is why I'm in trouble, since irresistibly rugged Detective Donovan Caine has agreed to help me. The last thing this coldhearted killer needs when I'm battling a magic more powerful than my own is a sexy distraction...especially when Donovan wants me dead just as much as the enemy.
Wow, this book is amazing. I read it one straight shot through. I love Gin, she is the coolest kick-butt character I have read in a while...and I can't wait to read the next one to find out about Donovan...he is a cutie. The plot moves amazingly fast and smooth and the author was not afraid to take risks with her story line or characters. There are is enough mystery and paranormal elements in this book to keep any reader satisfied. This book is truly amazing. GO GET IT!
Want to win a copy??? Leave a comment on this post and let me know who your favorite assassin of all time dead, alive, fictional, or not...US and Canada only, no PO boxes, must be a follower to enter and please leave your email address for confirmation. Ends Mar 10, 2010.
Received from: Publisher
For more information or for purchasing visit
Jennifer Estep's webpage
.
I give this book 5/5 stars. ★ ★ ★ ★ ★
To purchase:
Copyright The Bibliophilic Book Blog 2009-2010