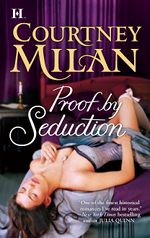 I am completely and utterly thrilled to post this interview I did with Courtney Milan. We chatted back and forth for awhile getting things set up, she is the midst of publicizing her newest book
Proof By Seduction.
Proof by Seduction
is an amazing book. You can read my review
here
.
Here is a bit of info about Courtney Milan:
Courtney Milan lives in the Pacific Northwest with her husband, a marginally-trained dog, and an attack cat.
Before she started writing books, Courtney experimented with numerous occupations. She has trained dogs, written legal briefs, sold newspaper subscriptions, and written computer programs. Having given up on actually being able to do any actual things, she's taken to heart the axiom that "those who can't, teach." When she isn't reading, writing, or sleeping, she can be found in the vicinity of a classroom.
Courtney loves hearing from readers. You can visit her on the web and find out more about her and her newest releases at
http://www.courtneymilan.com
.
So we are going to hop right into the interview:
(BBB)
:
Tell us a bit about your new novel 'Proof by Seduction'?
(CM):
Proof by Seduction
is the story of a scientific marquess, Gareth Carhart, who is great at logic, and not so great at communication. He discovers that his cousin and heir is visiting a fortune-teller, and aghast at the thought of so much irrationality, he vows to prove the a fortune-teller is a fraud. But the fortune teller in question is more slippery than he imagined, and soon he discovers that she's proving things to him: that friendship matters, that nothing is what it seems on the outside, and that love is possible, even for him....
(BBB): Do you prefer Gareth or Ned?
(CM): Oh, what a question. It is like asking, do you prefer ice-cream or dishwashers? You want them both, for very, very different things. Gareth is always a challenge--if you speak sloppily, he'll let you know, and he won't let you get away with anything. This is great, because if you can win his respect, he'll defend you to the rest of the world. But he's not always a comfortable person to be around--not unless you're the kind of person who can make anyone feel comfortable, as Jenny can.
Ned, on the other hand, is loyal to the bone, and it's his loyalty that's his undoing. He's also harboring his own secrets, though--and he's determined not to be a burden to anyone...
I love them both, in completely different ways.
Personally, I prefer Mr. Milan, who was not listed as an option. People always talk about romance heroes as if they were supposed to be ideal men, but nothing is further from the truth. In reality, I'm a low drama kind of person who thinks that someone doing the dishes so I can write is about as romantic as it gets. Good books need conflict. Real life romance? Not so much.

(BBB): What was your inspiration for this book?


(CM): Too many to possibly list! One of the first was
Jane Austen's Emma
, where
Miss
Harriet Smith is a girl of unknown parentage, who is more than just a little clingy and unsure of herself. It is only by
lack of intelligence
that she fails to realize just how miserable her lot in life was. I always wondered: What if Miss Smith had the wit and vivacity of Emma, and she
knew
just how awful her chances were at getting ahead? That's where my first idea for Jenny came from.
But there were a thousand other influences, ranging from duck blinds, to a Certain Nameless Book in which an intelligent, wonderful heroine placed blind faith in some old crone's foretelling of the future and married some horrible man (your average alcohol-swilling gambling wife-seducing hero), who happened to be the hero of the book. It turned out all right for her, it being a
romance novel
and all, but the set up horrified me, because there were a lot of fraudulent old crones back then. It could have been very, very bad!
Pretty soon my fraudulent old crone mixed with my vivacious, intelligent Miss Smith, and the rest, as they say, is history.

(BBB): What is your favorite food?


(CM): I have to pick just one? I really love variety. I couldn't possibly pick a favorite food. But I can pick favorite
ingredients
. There are some things that will make any dish better (in reasonable quantities). These things are:
* cheese
* citrus
* salt
* alcohol
* vinegar
These are the universal ingredients; things so good, and so distinctive, that any dish prepared without one of these four ingredients can be improved by adding an appropriate amount, in an appropriate quantity, perhaps combined with other items. Seriously. Name a food that lacks one of these items and I can improve it by adding a little.
This is why I don't have a lot of foods in my kitchen, but I do have twenty kinds of vinegar, eight different salts, lemons, limes, yuzu juice, and a good amount of cheese.
(BBB): Do you plan on writing other genres or other genres of romance?
(CM): I have ideas for books in other genres that I will never, ever write, because they don't play to my strengths. For instance, I have this truly wicked idea for a paranormal thriller that involves evil ophthalmologists, which I figure would be an instant hit. I mean, most people already suspect they're evil deep down, right? Those little puffs of air they send into your eye for the glaucoma test... how can this be anything except downright devilry?
Unfortunately, thriller is not my style, so someone else will have to write about the disgusting, covert cult of eye doctors and their mission to rid the world of psychic talent. (Did you really think they were testing for glaucoma?
Really?
You are so naive.)
Somewhere inside of me I have a historical gaslight fantasy--not a romance--about a crippled surgeon's apprentice who lives in Bristol in 1778. I've actually written a handful of scenes from this book, and I'll probably take it farther when I have time. I call it a fantasy even though there is no magic in the book. In fact, there hasn't been any magic for the last 3,000 years...

(BBB): Do you have any writing rituals?


(CM): I just write when I can.

(BBB): I can't wait to read Ned's novel, can you tell us anything about his book?


(CM): How about a one-sentence summary? Ned enters a
marriage of convenience
, only to discover that his wife is engaged in charity work that can only be described as moral, right... and utterly illegal.

(BBB): Do you have a favorite author or book? or some favorite authors or books?


(CM): This is like asking me for my favorite food. I have a million billion favorite authors. In romance,
Julia Quinn
, Eloisa James, Elizabeth Hoyt,
Loretta Chase
, Sherry Thomas, Meredith Duran, Tessa Dare, Anna Campbell, Julie Anne Long, Carolyn Jewel,
Teresa Medeiros
...

(BBB): Why did you choose this historical period for 'Proof by Seduction'?


(CM): I write
historical romances
set in the interstitial period between the Regency and the
Victorian era
. Over those few generations, the whole idea of "society" changed. It used to be that people lived for generation after generation, doing the same inherited jobs for generation after generation, moving in the same social circles for generation after generation. Then, the industrial age broke out with a vengeance, and the result was a large number of mobile workers with shallow geographical roots.
For the wealthy, land lost its value as currency. Noble obligation shifted from a system that was almost feudal to the far more laissez-faire capitalism that dominated the nineteenth century. People that understood this profited (at the expense of others); those that clung to the old ways did not. It was a time of tremendous social upheaval, and over the course of a few decades, long-rooted social traditions just disappeared.
There are a number of strong parallels between that time period and the one we live in. The children of today think that the word "community" includes myspace and twitter, something very different than the world their grandparents knew. I'm not trying to knock either definition; quite the opposite. One of the fundamental human hungers is for community, for a place in society where you fit in and are needed and need others in return. For all that people talk about capitalism and commerce in the news, I think what humans most desire is to give. Humans need to feel like we have something special to give, and we want to receive in return. Love is both the most selfish and the most generous thing in the world.
Romance, in my mind, is ultimately about that hunger. It's about finding the person that grounds you in community. I love writing in a time when the very notion of "community" was in flux, because it means my heroes and heroines can not only be missing love in their lives, but often are missing that vital connection to community. The community they would have fit into twenty years ago has fallen to pieces, and the one they yearn for doesn't yet exist.
So they not only have to grope their way towards love, but they have to invent a place where the future stops being scary.
Despite the carriages and cravats, this is, I think, much like today.
(BBB): Did you get everything you wanted for
Christmas
(or whatever holiday you celebrate) this year?
(CM): What I really wanted was time to write, and what I got was a week by myself with no distractions. As I write this, a few days before Christmas, that week is almost over, and now what I really want is to spend some time with my husband and my family--most especially including my cat and my puppy.
Everything else is just gravy.
Oh, I forgot to say that I'll be hosting a giveaway of Proof by Seduction to a random commenter.
Thanks so much for having me, and I look forward to seeing you!
(BBB): Thank you so much for doing this interview...it was fun and your answers were great!!!
Get your copy of Proof By Seduction NOW. It was an amazing read!