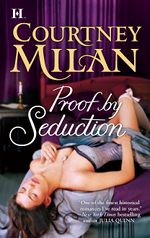 Summary:
She was his last chance for a future of happiness…
A gifted fortune-teller from a humble background, Jenny can make even the most sophisticated skeptic believe her predictions simply by batting her smoky eyelashes. Until she meets her match in Gareth Carhart, the Marquess of Blakely, a sworn bachelor and scientist.
He just didn't know it yet
Broodingly handsome, Gareth is scandalized to discover his cousin has fallen under the spell of "Madame Esmerelda," and vows to prove Jenny a fraud. But his unexpected attraction to the fiery enchantress defies logic. Jenny disrupts every facet of Gareth's calculated plan—until he can't decide whether to seduce her or ruin her. Now, as they engage in a passionate battle of wills, two lonely souls must choose between everything they know…and the boundless possibilities of love.
Oh jeez, I don't even know where to start! GAH. I guess I'll start at the front. First off, I LOVE the cover for this book, its absolutely beautiful. I love the use of color and again, its just gorgeous. Lets see, I love everything about this book. I love how creative Courtney Milan is in coming up with a truly unique story line. I have never read a book with a plot or story scenario quite like this one, and it works, I adored it. I love how rich each character is as well. From Gareth, to Ned, Laura, and Jenny; Courtney Milan wrote each and every one so you feel as if you know them personally, such as a long lost friend you have finally gotten to see again and you are listening to them tell you where they have been. It was perfect. I love the honesty each character emblazons and how you feel the emotions of each of them rolling off the pages. The plot is perfect, not to fast or slow, and contained critical information the whole way through, I never once though...'oh, why is that here'. I guess you are starting to get the point, this book is amazing. I also have one last bit of praise to impart. I was completely amazed at Courtney Milan's vocabulary skills, odd I know but she employed her skills well, I even had to bust out a dictionary...which was a GREAT thing. I didn't feel stupid while reading...which made me happy.
Make sure you come around on Jan 4, 2010. Ill be posting an interview with Courtney Milan!
*I received this book via NetGalley*
For more information or for purchasing visit
Courtney Milan's webpage
.
I give this book 5/5 stars. ★ ★ ★ ★ ★
To purchase: